How Oklahoma Is Winning The Battle Against Substance Use Disorder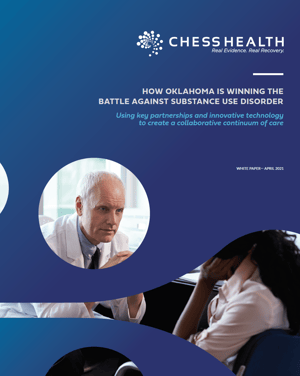 The latest white paper from CHESS Health focuses on Oklahoma and some visionary leaders within the Oklahoma Department of Mental Health and Substance Abuse Services (ODMHSAS) who are driving change on a state-wide basis to address the rising tide of substance use disorder that has eclipsed the state.
First, the hub and spoke model created through a partnership with CHESS Health is connecting a wide variety of organizations through closed-loop referrals to ensure citizens who are in crisis get the help and services they need.

Second, SUD providers across the state are using the CHESS Connections App to offer 24x7 support to individuals in treatment and recovery for substance use disorder with moderated peer discussion groups, virtual support groups, reminders, digital CBT, and care team connections.
Complete the form to download the white paper.